Its first full-colour images also show off a star-forming region and a distant patch of the universe.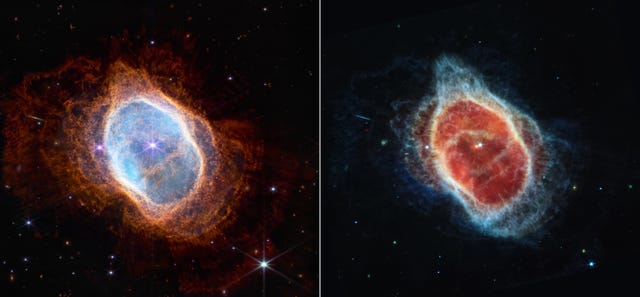 NASA, ESA, CSA, AND STSCI
NASA released the first spectacular full-colour images from the James Webb Space Telescope (JWST) this week. The images focus on five phenomena that are visible with the powerful telescope, highlighting its capabilities and shedding new light on some interesting corners of outer space.
One of the major accomplishments in this first batch of images is a huge photo of the deep universe, meaning instead of focusing on a specific nebula or planetary system, it's a sweeping view that includes hundreds of many-coloured and variably-shaped objects. And because of the way space works, the images from further away are many billions of years old. NASA's Eric Smith said in a JWST press briefing on Tuesday that the depth of the image dates back 13.4 or 13.5 billion years or more.
At the briefing, a reporter asked how these images are colour treated. NASA's Klaus Pontoppidan, a James Webb Space Telescope project scientist, explained that these images aren't colour-treated so much as they are shifted because they are infrared-coloured in space. That means "if you had infrared eyes," Pontoppidan explained, "this may be what you would see." The spectrum of light visible to human eyes is small and doesn't include infrared, despite the fact that the infrared band is much larger than the band of visible light.