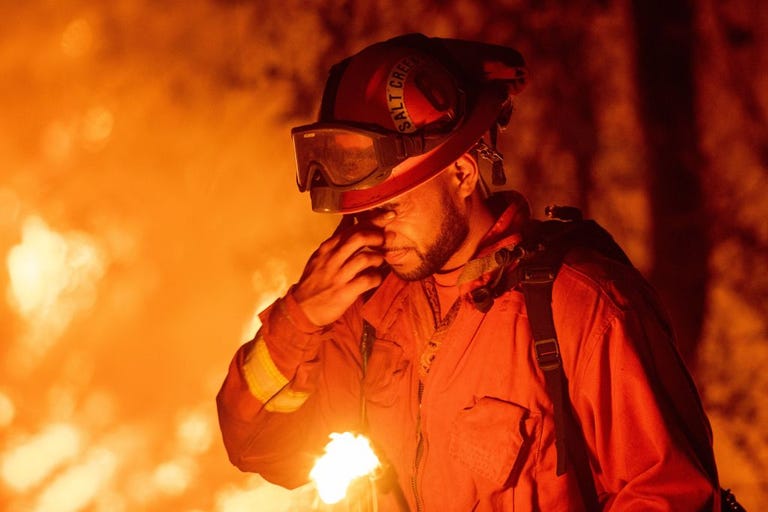 A brutal fire has caused mass evacuations and at least two deaths in northern California, growing to 44,450 acres by Friday morning. Containment of the fire, known as the Carr Fire, has dropped from 6 percent to 3 percent.
One man who died was a private bulldozer contractor who was killed while "working on an active section of the fire," according to a statement from the California Department of Forestry and Fire Protection (Cal Fire) made on Twitter. Another member of the Redding Fire Department has also died, according to Cal Fire.
"As we mourn the loss, we also battle a fire that is moving extremely quickly and erratically into western Redding," said Cal Fire Incident Commander Chief Brett Gouvea. The fire has destroyed 65 structures, damaged 55, and is threatening nearly 500 more. These numbers are expected to rise the fire continues on its path of unmitigated destruction, updates can be found on Cal Fire's website.
For Shasta County resident, the fire moved very rapidly. "Around 1 o'clock, we had blue sky. Around 2 or 3, the smoke came on top of the house. It got dark, and then it got really dark. We tossed a water pump into the pool and left. As we were driving out, we saw flames light up and firetrucks entering our subdivision," says Curtis Moore, a college student at Shasta College and an Air Force veteran, speaking to PopMech.
The fire is so hot, the smoke is going straight up. We were getting covered with ash. You're driving, every car is covered in it," Moore says.