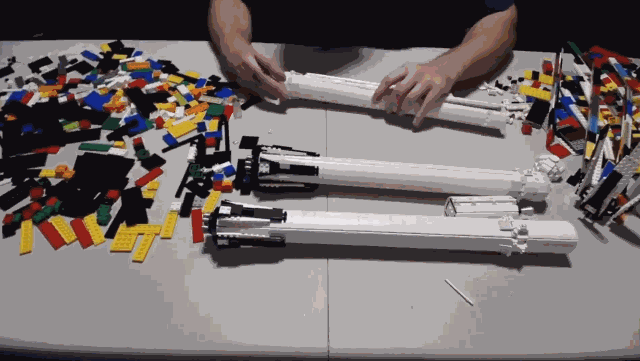 rips to the International Space Station and landing two rockets simultaneously are impressive, but now SpaceX is standing on the precipice of a towering achievement for any space program: a Lego set.
A proposal for a SpaceX Falcon Heavy has made it to the review stage of the Lego Ideas process, at which point the company internally take the concept under consideration. This comes after the proposal has passed 10,000 supporters only a few months after launching on the site.
The proposal's creator, a teacher from Ohio named Kevin Hehmeyer, suggests in his proposal that the model Falcon Heavy would be 26 inches tall and around 1700 pieces. This would make it similar in size to the Lego Saturn V of Apollo-mission fame, despite the fact that the real-life Saturns were considerably taller than today's Falcon Heavy.
Hehmeyer is not the first to suggest Lego recreate SpaceX rockets, on his proposal's page Lego Ideas recommends several projects pitching the exact same concept. But Hehmeyer's stands out in its attention to detail and its appreciation of the history of Lego sets about space travel, from first Lego Space Shuttle of 1990 to the Lego Ideas-sponsored Saturn V. Hehmeyer says that he borrowed 30-year old bricks from his siblings in order to make a working model.
So far, the idea has been a hit with Hehmeyer's students. When he brought in his model Falcon Heavy to show his science class, he says on the page's updates, "It worked. Maybe too well. Some students actually pulled out their contraband (cell phones) to run up to my desk to take pictures of it! Brave souls."
Hehmeyer's proposal also includes ideas for accessories, including probes, telescopes, and even the Tesla Roadster SpaceX CEO Elon Musk recently launched into space. The Swedish company will begin its review process in September.
Space-related projects have proven popular for Lego Ideas. Last year, a "Women of NASA" set, first proposed on Lego Ideas, became the best-selling toy on Amazon.
Source: Lego Ideas via The Awesomer