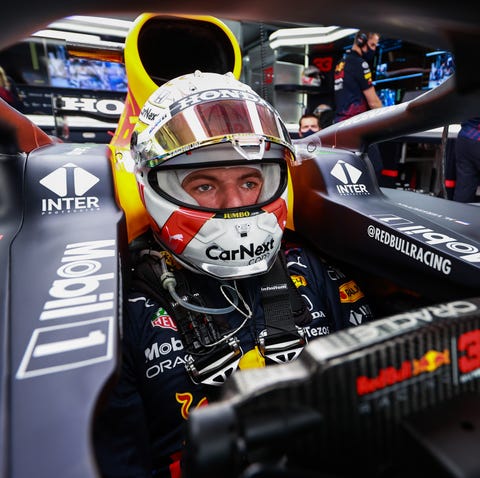 MARK THOMPSON
GETTY IMAGES
A regular driver's license isn't enough—F1 drivers must obtain what's called an F1 Super Licence. Nope, that's not spelled wrong. It has the European spelling, as it's issued by the Fédération Internationale de l'Automobile (FIA). The licence involves an intense written test and prior racing experience. Some drivers with dual citizenship race under a different nationality, like Alex Albon, who has a Thai license.
They must be 18 years old to compete.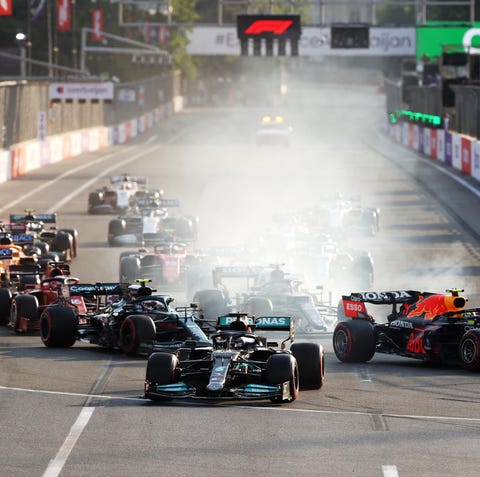 This rule is relatively new, first being implemented after Max Verstappen made his Formula 1 debut at just 17 in 2015. The age limit helps maintain the sport's "elitist nature."
Cars and drivers must meet a weight minimum.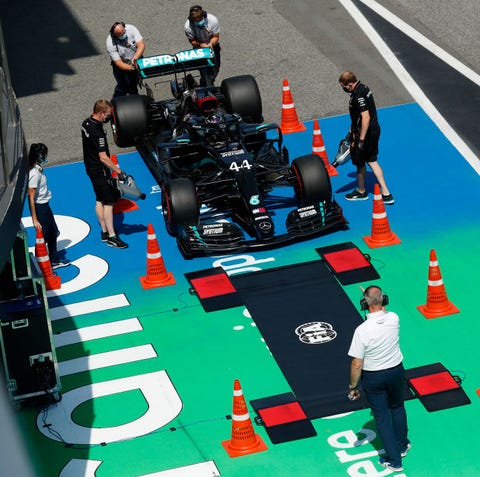 See that right there? That vehicle is in the midst of a weigh-in. For the 2022 season, the driver and car must weigh a combined minimum of 798 kg (1,759 lbs) for safety and speed reasons. Weights are added to cars where the driver is too light to help level the playing field.
Drivers have to weigh themselves after each race.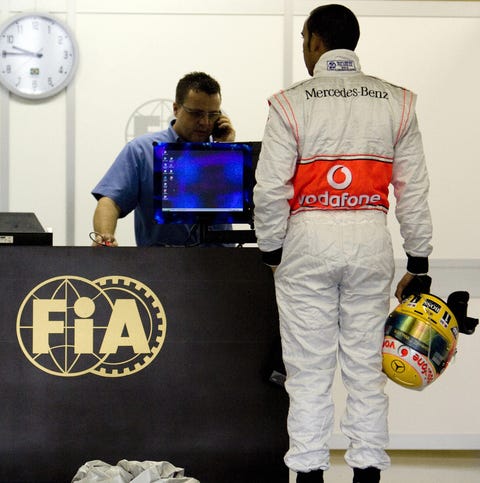 ANTONIO SCORZA
GETTY IMAGES
This helps officials make sure the car and driver meet their minimum weight. Another reason? Drivers could drop anywhere from 4 to 8 lbs during a race due to sweating in the high temperatures in the car (it can reach up to 122 degrees Fahrenheit!). The weigh-in informs medical staff how much weight a driver lost. If it's more than usual, they can act accordingly.
Don't worry: Drivers can hydrate while racing.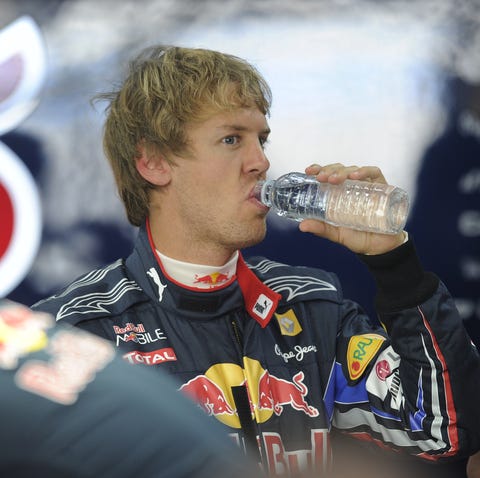 Some drivers have a special hydration system built into their cars. A button on the steering wheel will shoot an isotonic sports drink designed to keep them super hydrated into their mouths.
They have to agree to grueling travel schedules.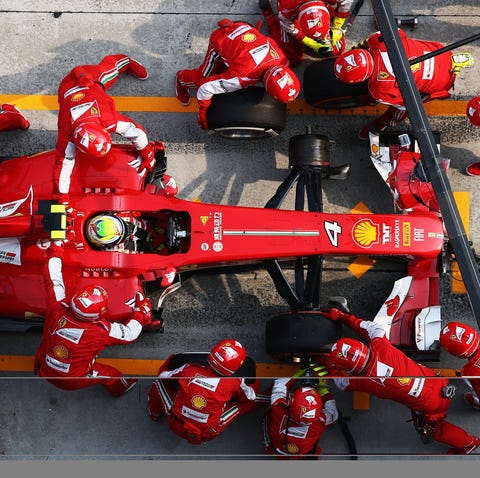 F1 drivers should expect to be away from their families for extended periods of time during the season—back-to-back races mean being away from home for two weeks at a time. But mechanics, engineers, and other crew members have it even harder, with sometimes over two months of continuous travel.
Flying with the team isn't required.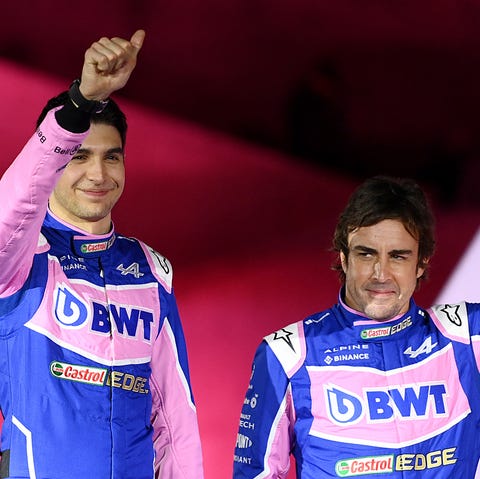 Some drivers travel with their team on commercial flights (in business or first class, of course), while others charter their own private jets. Or, if the race happens to be in a driver's home country, they'll often stay at home and take their own cars to the track.
Hotel stays are covered by the team.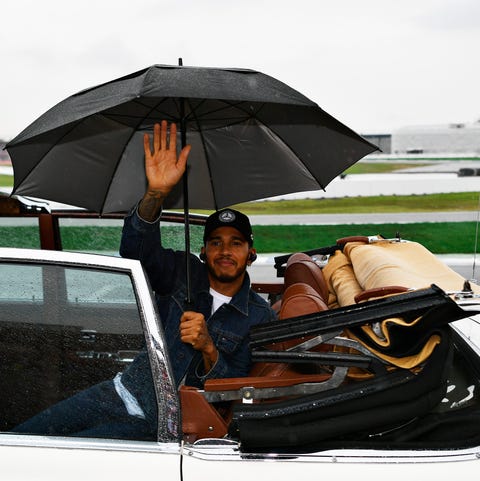 Whether drivers end up in a 5-star hotel or a short-term rental apartment, the team typically covers all expenses.
There's only one way to change their number.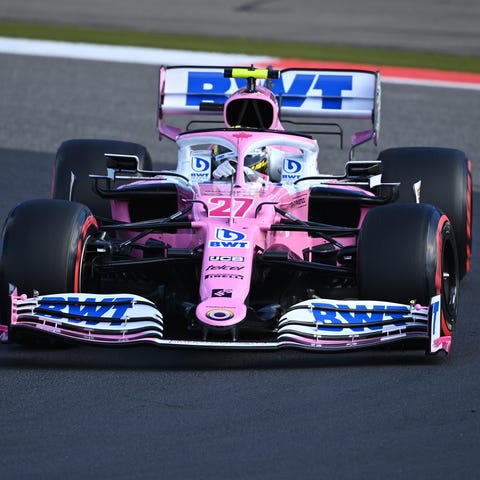 At the very beginning of their F1 career, drivers must choose a permanent racing number. There are often personal meanings behind their choice. Want to change it? Only the reigning world champion can swap to #1 following their winning season.
Winners don't always get to keep their trophies.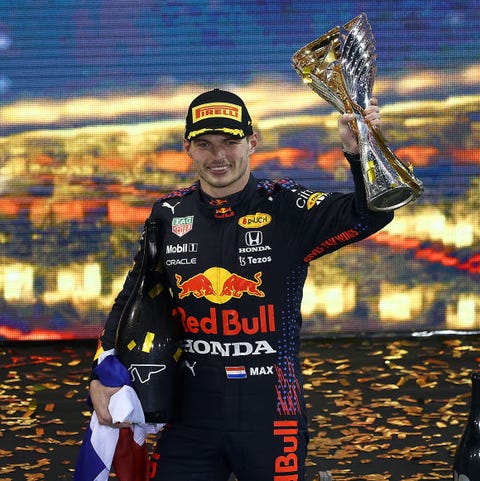 Most only get a replica of their trophy, because drivers usually sign a contract with a clause that says their team gets to keep the real one. Many teams put them on display in their headquarters.